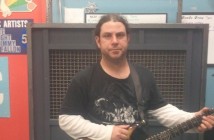 MetalSucks is reporting, in a statement from Dave Brockie, that GWAR guitarist Cory Smoot-- a.k.a. Flattus Maximus-- was found dead this morning, as the band prepared to cross into Canada on their current tour. Brockie says:

It is with a sense of profound loss and tragedy that the members of GWAR must announce the passing of their long time guitarist and beloved friend Cory Smoot, also known to thousands of metal fans worldwide as Flattus Maximus. Cory was found deceased this morning as the band prepared for a border crossing. There is no word as to the cause of death and the members of GWAR are completely shocked and devastated that this has occurred.
Cory joined GWAR in 2002, taking up the mantle of Flattus Maximus, and was the longest-serving member to portray that character. In addition to playing guitar, he co-produced GWAR's 2006 album Beyond Hell and its follow-up, Lust in Space, as well as serving as producer for their latest album, 2010's Bloody Pit of Horror. In addition to his work with GWAR, Cory also played in the bands Mensrea and Locus Factor.
Our deepest condolences to Cory's friends and family.