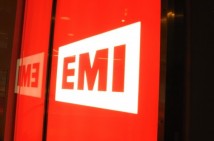 The "big four" major record labels are now the "big three" as Universal Music Group has initiated a $2 billion dollar purchase of EMI Group. Universal, which is already the largest of the majors, purchased the recorded music division, leaving the music publishing for another company. EMI has changed hands repeatedly over the past few years, first being purchased by a private equity firm and then taken by Citigroup when the PE firm was unable to meet debt obligations leading to a debt-for-equity swap.
EMI was formed in 1931 and boasts a catalogue which includes Radiohead, The Decemberists, 30 Seconds to Mars, Beastie Boys, Stiff Little Fingers, The Beatles, The Stooges, Jimmy Eat World and countless more.
Regulators still have to approve the deal but it's expected that it will close.