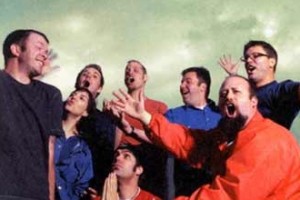 It's been just one week since our last update on the staggering fundraising efforts of Five Iron Frenzy. Last we checked, the band was at $80,000 but as of this morning, the band had surpassed $150,000 in pledges towards their next album.
The band had reunited after 8 years apart, and announced plans to record a new album to be released in 2013 depending on the success of a fundraising campaign to raise just $30,000. Instead, the band has done that five times over, with more than 2000 donors giving more than $65 apiece. At least five people gave more than $1500 each, The band has posted a "thank you" video and a summer practice session. .
The band's last release was The End is Near in 2003, before splitting up. They also released The Rise and Fall of Five Iron Frenzy DVD on Asian Man Records.