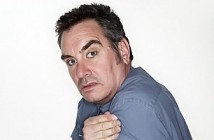 Rolling Stone is currently streaming a new track from Mark Stewart, former vocalist of the British post-punk band The Pop Group. The track, which the magazine says was "spurred by the ongoing news about excessive greed and corruption," features none other than Crass's Eve Libertine and Stewart's fellow Pop Group members Slope and Dan Catsis. Of the inspiration for the song, Stewart further explains:

"Allen Ginsberg once accused me of exaggerating the apocalypse. In this age of anxiety and in these days of rage, nothing – I repeat, nothing – is sacred."
You can listen to the track or download it for free right here.