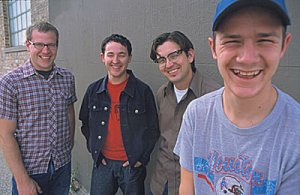 Looks like the two recently unveiled Promise Ring shows won't be the only ones for the foreseeable future. In a new interview, the band confirmed:

We're not gonna get back in a van and go around doing that type of touring. We're just going to try to do select cities and mainly fly-ins or short drives. It'll probably be anywhere between 10 and 15 shows. We'll go from there.
The interview also talks about the promised rarities album due out on Dangerbird Records:

We're still working out the tracklist; a lot also depends on some hard drives that have crashed on me over the years . There's a song we recorded during the 'Wood/Water' session that isn't anywhere, so we'll probably throw that on as maybe the main track. The other song from that session is called 'All Good Souls' -- it was the bonus track on the 10 inch of 'Wood/Water.' From there we have some demos we recorded for that didn't even make the recording of the record.
The band had maintained mostly silence since they split up in 2002 after releasing Wood/Water on Anti- Records. In the intervening years, the members reunited in 2005, and 50% of the band appeared in Maritime and released a handful of records including Human Hearts in 2011.