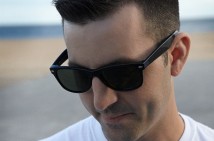 Anthony Raneri, vocalist for Bayside, has announced that he'll soon release a solo EP of four or five songs previously unreleased songs he's written over the last few years. Recording begins this week at Hurley Studios in Costa Mesa, CA. Guests planned for the recording include Steve Choi (Rx Bandits), Davey Warsop (Beat Union, Suedehead) and Jarrod Alexander (My Chemical Romance, Dead Country). The piece comes as a companion of sorts to his annual Where's The Band? Tour, and the release date will coincide with the 2012 shows. Raneri says not to expect something stylistically similar to Bayside:

"As an artist, I wanted to try and challenge myself with some other kind of styles. There is some alt-country style songs, some reggae songs… just some cool music. I have really eclectic musical tastes, so this is my chance to explore creating songs in other styles."
Our friends over at AltPress have more details in an interview with Raneri here. Full dates for the Where's The Band? Tour, which also features Chris Conley of Saves The Day, Ace Enders of The Early November, Evan Weiss of Into It. Over It. and Matt Pryor of The Get Up Kids, were previously posted here. Bayside released their latest full-length, Killing Time, earlier this year.