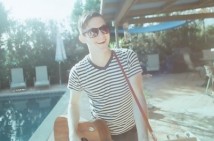 This week on the Punknews Podcast, Adam White, Rich Verducci and host Chris Moran welcome Chris Farren of Fake Problems to the news roundtable! We discuss the recent punk crackdown in Indonesia, the lineup of this year's Bamboozle festival, the fact that every band ever is reuniting. What's Chris Farren's favorite Goober Patrol song? What Bon Jovi classic does he sing for us live? Is it true that Toby from H2O bought him beer until he was old enough to get a convincing fake ID? You'll have to tune in to find out.
…all this and music from Audra Mae and The Almighty Sound, The Dwarves and because we're contractually obliged, Fake Problems.
You can click Read More to stream and/or download the show, or subscribe via RSS or iTunes. You can always send us your feedback in the comments section or via e-mail.