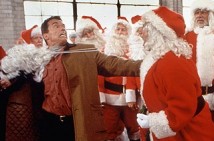 Welcome back to a rock 'em, sock 'em rollick through some of the absolute best offerings of 2012. Today we bring you lists from minds the likes of Tobias Jeg (Red Scare Industries), Greg Barnett (The Menzingers) and Anthony T. Godino (Dead Industry). Enjoy, and be sure to keep coming back, as the year closes in on us like the furious grasp of a former Governor reaching for the last Turbo Man figure, we're bound to have tons more things to recommend to you.
Tobias Jeg - Red Scare Industries
It goes without saying that Red Scare put out the best shit this year, but only a real louse would put their own releases in a Top 10 list, right? I thought 2011 was "just okay". Not as good as last year, and hopefully not as good as next year. Here goes…
10. The Gateway District Perfect's Gonna Fail: Solid Minneapolis punk rock. Check out "I'll Take The River".
09. The Slow Death Born Ugly, Got Worse: See above. Fun live show too.
08. Alkaline Trio Damnesia: A polarizing record for a lot of fans, but the Trio are like musical comfort food for me and I can always enjoy any version of "You've Got So Far To Go" or "Mercy Me".
07. Smoking Popes This Is Only A Test: Not their best stuff, but a step up from Stay Down. "Letter To Emily" is classic Popes.
06. OFF! The First Four EPs I don't think the physical release was technically out until this year, so whatever, it counts. I bought a copy at the show and Keith Morris insisted that he sign it. We also chatted about Ray Pettibon's art. Rad!
05. The Dwarves The Dwarves Are Born Again: These guys are like the Honey Badger of independent music. Some of the most violent, thrashy punk rock wrapped in slick production. Totally weird. Totally awesome.
04. Wild Flag Wild Flag: Their live show comes off a little more "rock" and less "psych", so I admittedly enjoyed that more than the record, but this band was a nice surprise in 2011.
03. Cobra Cobra…is Back!: Super fun Japanese Oi. I can already hear Floyd telling me that this was released overseas in 2010, but all I have to say to him is… TOKIO RIOT!
02. Swingin' Utters Here, Under Protest: I'm old and a sucker for traditional-sounding punk rock, and thank god the Utters have never, ever let me down. On this outing they're more Buzzcocks than Cocksparrer, but it still works well..
01. Cobra Skulls Agitations: I love this fucking band and although this may not be their most dynamic release, it's full of great tunes like "Now You Know", which was my favorite song of the year. When it comes to music and message, Cobra Skulls did it best in 2011.
Favorite Live Shows of 2011
10. X (playing Los Angeles!) at Bottom Lounge in Chicago, IL
09. Justin Sane at Occupy Chicago in Chicago, IL
08. The Menzingers, Reaganomics, Lipstick Homicide at Underground Lounge in Chicago, IL
07. Guided By Voices, Sharon Jones and the Dap Kings, Old 97s, Best Coast at Sasquatch Festival in George, WA
06. Naked Raygun, The Falcon at Metro in Chicago, IL
05. Justin Townes Earle at Magic Stick in Detroit, MI
04. Descendents, The Menzingers, The Copyrights at Riot Fest in Chicago, IL
03. Stiff Little Fingers at Double Door in Chicago, IL
02. Cobra Skulls, Nothington, Direct Hit, Masked Intruder at The Frequency in Madison, WI
01. Dead To Me, Sundowner, The Bombpops at Beat Kitchen in Chicago, IL
Favorite Films of 2011
10. The Help
09. Super
08. The Black Power Mixtape
07. The Muppets
06. Midnight In Paris
05. The Tree Of Life
04. A Better Life
03. Young Goethe In Love
02. The Troll Hunter
01. Drive
Greg Barnett - The Menzingers
Manchester Orchestra - Simple Math
I was hooked after the first song. Too good.
The Front Bottoms - The Font Bottoms
Scott Engel from The Holy Mess recommended this band to me and he hates pretty much everything. Really thoughtful lyrics with unique melodies. I'm a fan for sure.
The Mountain Goats - All Eternals Deck
John Darnielle for President.
Bright Eyes - The Peoples Key
"Forgive myself for the many times I was cruel to something helpless and weak". Shell Games is my favorite song of 2011. Incredible record.
Static Radio NJ - We Are Wild Beasts
Big hooks from start to finish with just the right amount of Nirvana worship. Best dudes as well.
Bon Iver - Bon Iver
I wanna slow dance with a pretty girl to this record. I hope he wins that silly Grammy.
Joyce Manor - Joyce Manor
I wanna be in this band.
Bomb The Music Industry - Vacation
Jeff Rosenstock for Vice President.
The Horrible Crowes- Elise
Brian Fallon is the most talented person I know. Fallon and Perkins really killed it with this project.
Title Fight - Shed
This is the best stuff they have ever done and I'm so proud of how much they've accomplished. Best dudes. NEPA forever.
Restorations - Restorations
Best band in Philly. Everyone in this band is too talented for their own good. Highly recommended.
Fucked Up - David Comes To Life
All my friends complain that this record is too long and that they don't have the time to listen to it. Thankfully for me I have plenty of time to listen to it. I'm a sucker for concept records.
Touche Amore - Parting the Sea Between Brightness and Me
Its impossible to not want to stage dive while watching this band. I've tried. Some of the best guys I've ever met through touring as well. Killer record.
We Were Promised Jetpacks - In the Pit of the Stomach
While I still like the first record better, In the Pit of the Stomach doesn't disappoint. Great songwriting.
Beruit - The Rip Tide
I dig the poppier direction they took with this record. Great driving music.
11. Justin August - Number One Handsome Man
10. Saves The Day - Daybreak
09. Direct Hit - Domesplitter
08. Hunx and His Punks - Too Young To Be In Love
07. Laura Stevenson and The Cans - Sit Resist
06. Timeshares - Unbearable
05. Luther - Siblings and Sevens
04. Choke Up - Spent
03. Joyce Manor - s/t
02. Bomb The Music Industry! - Vacation
01. Copyrights - North Sentinel Island