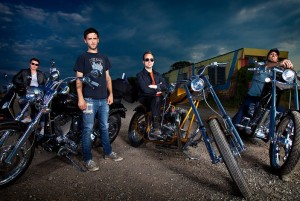 Following up on the ultimatum delivered by Punchline bassist Chris Fafalios, that due to "a delay over at iTunes" their new EP So Nice To Meet You did not launch Tuesday morning, but did make it to the iTunes store by Tuesday evening. Underthegunereview.com posted the band statement:

"Trying to laugh it off that the album isn't live on iTunes and be optimistic that it will be there in the next few minutes. Everything is good on our end, just up to iTunes to do their part. I'll bet LMFAO doesn't have this problem, but they do have rather large glasses and hair. Your support is overwhelming. Seriously. It's beautiful when people come together for a cause, and I can't believe we are the cause of the day. All I ask is you to be patient and cross your fingers for me."
You can purchase the album now on iTunes (currently ranked at #8). Click Read More to have a listen to "Everything I Wanted" from the EP.