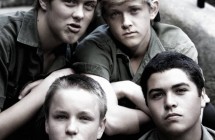 Emily's Army have recorded a new song called "Crow." The description (complete with Lord of the Rings reference) reads:

"The Lost Boys (feat. Emily's Army) This is a new demo that we recorded with Josh Berl on the acoustic and back vox and max playing banjo and baglamas. Joey Travis and cole are on bass, drums, and harmonica."
This new track branches off their prevalent sound heard on the band's full-length debut, Don't Be a Dick, that was released last June.