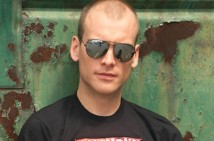 Matt Skiba and the Sekrets have signed to Superball Music. Also, Matt Skiba has formed something called Matt Skiba and the Sekrets. The band features My Chemical Romance/The Suicide File/Death By Stereo/Throwdown/When Tigers Fight drummer Jarrod Alexander and AFI/The Force bassist Hunter Burgan. Skiba commented on the project:

Creating a record on my own and deciding who plays and how the songs were structured, it was fun to do. I love working with my band-mates in Alkaline Trio but to make a rock record that was just mine was something that I wanted to do.
The group is described as dancy, catchy rock in the vein of Alkaline Trio with elements of 80's post punk. Their debut, Babylon is due out this year.