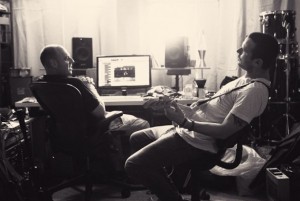 Say Anything have announced the dates for their upcoming tour, The Say Anarchy Tour. Joining Say Anything will be Naples, FL's Fake Problems and Brooklyn, NY's Kevin Devine and the Goddamn Band. The Front Bottoms and TALLHART (ex-Marksmen) will be on select dates.
Say Anything will be touring in support of their upcoming album, Anarchy, My Dear, which is due out March 13th, 2012.
Pre-sale tickets can be purchased here.
| DATE | VENUE | CITY |
| --- | --- | --- |
| MAR 24 | The Regency Ballroom | San Francisco, CA |
| MAR 25 | Wonder Ballroom | Portland, OR |
| MAR 27 | Showbox at the Market | Seattle, WA |
| MAR 29 | The Complex | Salt Lake City, UT |
| MAR 30 | Summit Music Hall | Denver, CO |
| MAR 31 | Bourbon Theatre | Lincoln, NE |
| APR 01 | The Firebird | St. Louis , MO |
| APR 03 | Station 4 | St. Paul, MN |
| APR 04 | House of Blues | Chicago, IL |
| APR 05 | Clutch Cargo's | Pontiac, MI |
| APR 06 | Opera House | Toronto, ON |
| APR 07 | Corona | Montreal, QC |
| APR 09 | Webster Theater | Hartford, CT |
| APR 10 | Water Street Music Hall | Rochester, NY |
| APR 11 | Mr. Small's Theatre | Pittsburgh, PA |
| APR 13 | Best Buy Theatre | Times Square New York, NY |
| APR 14 | House of Blues Boston | Boston, MA |
| APR 15 | Theatre of Living Arts | Philadelphia, PA |
| APR 17 | Black Cat | Washington, DC |
| APR 18 | The National | Richmond, VA |
| APR 20 | Orange Peel | Asheville, NC |
| APR 21 | Cat's Cradle | Carrboro, NC |
| APR 22 | Masquerade | Atlanta, GA |
| APR 24 | Revolution | Ft. Lauderdale, FL |
| APR 25 | Beacham Theatre | Orlando, FL |
| APR 27 | Warehouse Live | Houston, TX |
| APR 28 | Live Mokah | Dallas, TX |
| APR 29 | La Zona Rosa | Austin, TX |
| MAY 01 | Marquee Theater | Tempe, AZ |
| MAY 02 | House of Blues (San Diego) | San Diego, CA |
| MAY 03 | House of Blues | West Hollywood, CA |
The Front Bottoms 3/24 - 4/11
TALLHART 4/13 - 5/3