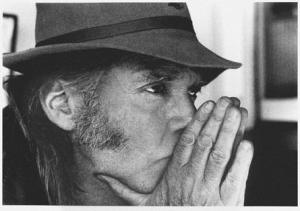 Neil Young recently appeared on stage at the D: Dive into Media event to speak with Walt Mossberg and Peter Kafka about digital music distribution and audio quality. Young, who's made the lack of fidelity in music recording and distribution something of a cause in recent years, advocated for a high quality digital music distribution system and lamented the lack of quality in digital files (both MP3 and Apple Lossless).
Tech publication The Verge carried two interesting quotes from the event. The first with Young commenting on late Apple CEO Steve Jobs:

Steve Jobs was a pioneer of digital music, his legacy was tremendous. […] But when he went home, he listened to vinyl.
Furthermore the veteran musician dismissed concerns on the effects of piracy, despite still morally supporting the record labels who support artists:

It doesn't affect me because I look at the internet as the new radio. I look at the radio as gone. […] Piracy is the new radio. That's how music gets around. […] That's the radio. If you really want to hear it, let's make it available, let them hear it, let them hear the 95 percent of it.