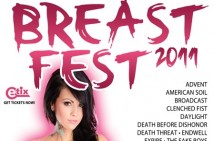 The lineup has been announced for Breast Fest 2012, which features a number of hardcore bands performing to raise money for Breast Cancer Research Foundation. The performers include: Born Low, Choose Your Weapon, Cold World, Day of Suffering, Dead End Path, Ensign, Expire, Fire & Ice, Foundation, Incendiary, Kids Like us, Life After Death, Lifeless, Line of Scrimmage, The Mongoloids, Nervous Breakdown, Overlooked, Power Trip, Reign Supreme, Suburban Scum, Will To Die and Young and In the Way.
It takes place Friday May 6th and Saturday May 7th at Volume 11 Tavern in Raleigh, NC. Tickets can be found here.
Editor's Note: We were notified that this information reflects 2011's Breast Fest. Please find the accurate information for Breast Fest 2012 here.