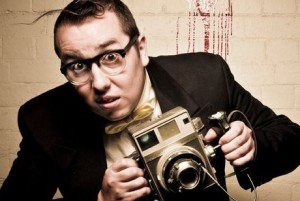 Tim Fite has premiered the new video form Ain't Ain't Ain't, due out on Anti- Records on March 6, 2012. Fite explained the concept:

The video for "We Are All Teenagers" tells the story of an old man who is pleasantly confused by his own reflection. Whenever he looks in the mirror, he sees himself as a teenager. Emboldened by this reflective anomaly, the old man swipes his daughter's car keys, and sneaks out of the house for a bit of late night joyriding. Ditching his cane, clad only in flannel pajamas, the old man hurdles headlong into a joyous night of freedom and fireworks.
It was directed by Ronnie Porto and featuring Tim Fite in special effects "old man make-up."
Check it out here.