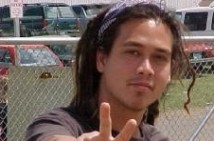 After four years in a coma, Deftones bassist Chi Cheng has begun to show some promising progress. While he remains semi-concious, he has begun responding to outside stimuli and is able to move his legs when asked. Cheng was seriously injured in November 2008 after a severe crash in Santa Clara, California. Cheng has been opening his eyes and responding to his surrounding for some time but still cannot respond verbally.
Sadly, Cheng's family has been having financial issues after losing his insurance just a few months after the accident leaving his family with $250,000 in medical bills. His bandmates in Deftones have held several benefit concerts to help raise money, and One Love for Chi has raised money through donations as well. Blabbermouth notes this statement from vocalist Chino Moreno:

Whatever people can do, it's all appreciated, and it's all just in the hopes that there will be one day where he can talk back and have a conversation and see his kids and, you know, continue on living, you know. That's what we pray and hope for, you know what I mean, that's all we can do.
The Deftones recently entered the studio to begin work on the follow up to 2010's Diamond Eyes. Sergio Vega, formerly of Quicksand, continues to handle bass duties with the group both live and recorded.
Frontman Chino Moreno collaborated with Far's Shaun Lopez, and Scott Chuck to record two EP's of electronic-tinged rock as Crosses (†††).