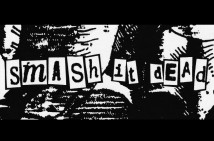 The second Smash It Dead Fest is set to take place March 23rd - 25th in Boston, MA. The festival will feature bands as well as feminist workshops. Proceeds will support the Boston Area Rape Crisis Center
Bands set to perform include: Spraynard, Ampere, The Credentials, Surrender, Aye Nako, Foreign Objects, Rations, Dead Uncles, Cinders, Don't Panic, Spoonboy, The Inhalers, Sick Fix, Death First, Cloud Rat, Curmudgeon, Congenital Death, Rosenkopf, Teen Wolves, No Sir, I Won't, Shoppers, Titfit, Boilerman, Nature Boys, Escalator, Troubled Sleep, Parasol, Nona, Sparkle Shit, and Dangerous Ponies.
More information is available on the festival's website and Facebook page.