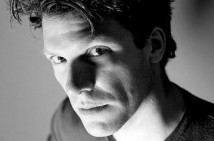 John 'Jughead' Pierson (ex-Screeching Weasel, Even In Blackouts, etc.) has launched a new podcast co-hosted by Eric T. Roth. The monthly podcast, entitled The Whole in 30 Days, will feature Pierson and Roth looking for two people to interview, a celebrity and an academic, as well as a range of music, spoken word sections, etc. The first episode, on the theme of rebellion, begins with Pierson announcing his intention to interview Ben Foster, better known as Ben Weasel.
"My singer from former band Screeching Weasel, Ben Foster, is one of those figures I always see as a cornerstone of the idea of rebellion. In these thirty days I'm gonna try to pursue him to have an interview. (…) I think what's gonna be hard about this, and why I'm challenging myself, is that Ben and I haven't talked in about two years. We had a falling out; the band was restarted without telling me… It's very complicated, and I thought I wanted to try to move past that, not for us to be friends ever again; I just wanted to be able to communicate, so that will be quite a challenge."
Pierson returns to the topic later in the podcast:

"John here. I received a message from Ben Foster 'Weasel', it was a snail mail in my mail today, and… it's just a tax form, with no letter attached. He has decided not to speak to me. But he gave me a tax form…"
Pierson goes on to tell the story of how he was checked out by the IRS after Screeching Weasel signed to Lookout! Records, after his bank account went from $12,000 a year to over $200,000. This sum wasn't all John's. He was responsible for distributing royalties to everyone who had ever been in the band, but because the cash went to him first, the IRS gave him a closer look. You can check out the full podcast here.