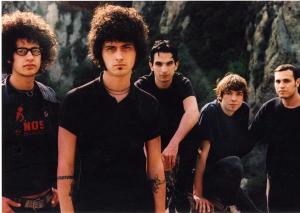 At The Drive-In's Omar Rodriguez-Lopez spoke to NME about the band's reunion and his feelings about future output from the band. Notably, he is unequivocal in the notion that this reunion is strictly a live affair:

Will there be a new album? No, no, no. At The Drive-In is more of a nostalgia thing – it's songs we wrote when we were all in our 20s and we're doing a couple of shows. "It's an old T-shirt that doesn't fit me any more, but when you put it on again, it feels nice. It's as simple as that.
He also addressed the long-simmering conflict that had broken up the band in the first place and kept them apart until now:

For the rest of the world, [the reformation] seemed to be out of nowhere, but we've been hanging out for the past four years. We patched up our differences a while ago.
Along with performing some shows at At the Drive-In, Rodriguez-Lopez is also gearing up for the release of Noctourniquet, the first new album from The Mars Volta since 2009's Octahedron.