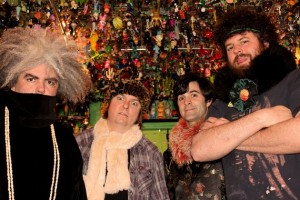 Melvins have announced that they will be releasing a new album, titled Freak Puke, June 5, 2012 on Ipecac Recordings. The record will feature the "Melvins Lite" lineup of guitarist/singer Buzz "King Buzzo" Osborne, drummer Dale Crover, and bassist Trevor Dunn (ex-Mr. Bungle). Freak Puke will be the band's full-length follow up to 2010's The Bride Screamed Murder.
Prior to that release, the band will be releasing The Bulls and the Bess on March 13, 2012. The free digital EP is being released through Scion A/V, the unusual label formed by Toyota to coincide with the eponymous vehicle.
In addition, the band -- in their full 4-piece lineup -- will be touring the US with Unsane this spring.