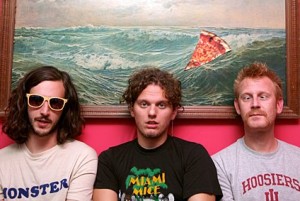 SPIN is hosting a new song from Portland, OR's Mean Jeans. The song, "Anybody Out There," will appear on the band's forthcoming album, On the Moon, due out April 17, 2012.
You can stream and download "Anybody Out There" here.
In addition, the band has posted some West coast dates, leading up to their performances at the annual SXSW festival in Austin, TX.
| Date | City | Venue |
| --- | --- | --- |
| Mar. 03 | Portland, OR | East End (w/ Nobunny, Boom!) |
| Mar. 07 | San Francisco, CA | Thee Parkside* |
| Mar. 08 | Los Angeles, CA | Blue Star* |
| Mar. 09 | Pomona, CA | VLHS* |
| Mar. 10 | San Diego, CA | Bar Eleven* |
| Mar. 11 | Tempe, AZ | Meat Market Garment Factory |
| Mar. 12 | Las Cruces, NM | Trainyard* |
| Mar. 13 | San Antonio, TX | TBA* |
| Mar 14 | Austin, TX | Trailer Space (Burger Records SXSW Showcase) |
| Mar 15 | Austin, TX | Trailer Space (CAPESHOK & DAED PIZZA PRESENTS) |
| Mar 16 | Austin, TX | Spiderhouse (Panache SXSW Showcase) |
| Mar 17 | Austin, TX | Trailer Space (Trouble In Mind SXSW Party) |
| Mar 17 | Austin, TX | Valhalla (Dirtnap Records Showcase) |
* w/ Guantanamo Baywatch