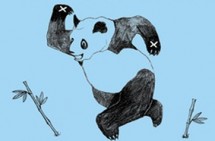 Police in Boston, MA say they will be cracking down on "aggressive dancing," following a performance by Flogging Molly at the city's House of Blues. The Boston Herald reports that the police cited the House of Blues for a license violation during the band's show on February 21st, where "60 concertgoers engaged in an 'aggressive mosh pit dance,' during which people were running and 'colliding into each other,' including some who were 'knocked to the ground.'" While no injuries were reported, a BPD Inspector said the dancing "violated safety rules and the club was cited because security did not intervene."
Local musicians, particularly of the metal and hardcore persuasion, were understandably critical of the crackdown. Brian Fair of Shadows Fall said "I can understand trying to cut down on injuries or fights, but you see more fights outside a dance night on Lansdowne Street [where the House of Blues in question is located] than you see inside a hardcore show."
Meanwhile, Ken Casey of the Dropkick Murphys said, when asked if the increased police attention will affect his band's upcoming St. Patrick's Day shows at the House of Blues, said "I don't see it as a concern for us. Maybe in 1998 it would have been."
Following a City Hall hearing on the matter, the House of Blues has been ordered to put up illuminated signs saying that moshing will not be allowed.