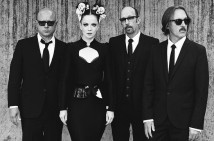 Garbage have released the song, "Blood For Poppies", for free download on their website. The track comes from their upcoming release, Not Your Kind Of People. "Blood For Poppies" will also be released as a 7-inch on limited edition white vinyl with a remix done by drummer, Butch Vig. Lead singer, Shirley Manson, describes the inspiration behind the track:

'Blood For Poppies' is meant to feel sort of like an abstract dream. The inspiration came from a story I had read in The Los Angeles Times about the opium trade and also from watching the documentary Restrepo. It's not literal in any sense whatsoever but it's a song about disorientation and delusion and the human struggle to stay sane in the face of insanity.
Not Your Kind Of People will be released May 15 on the band's label, STUNVOLUME. Pre-orders for the standard edition and the deluxe edition can be found here and here respectively.
In addition, Garbage have added dates to their previously announced tour. You can find those below.
"Blood For Poppies" can be heard here.
| DATE | CITY | VENUE |
| --- | --- | --- |
| April 9th | Los Angeles, CA | El Rey Theatre SOLD OUT |
| April10th | Los Angeles, CA | El Rey Theatre SOLD OUT |
| April 14th | Las Vegas, NV | Pearl at the Palms Hotel |
| April 16th | Tucson, AZ | Rialto Theatre |
| April 17th | Tempe, AZ | The Marquee |
| April 20th | Houston, TX | House of Blues SOLD OUT |
| April 21st | Austin, TX | La Zona Rosa SOLD OUT |
| April 22nd | Dallas, TX | KDGE Edge Fest FC Dallas Stadium |
| April 24th | Aspen, CO | Belly Up |
| April 25th | Denver, CO | Ogden Theater |
| April 27th | Salt Lake City, UT | In The Venue |
| May 9th | London, England | Troxy SOLD OUT |
| May 11th | St. Petersburg, Russia | Jubilenyi Hall |
| May 12th | Moscow, Russia | Crocus City Hall |
| May 16th | Paris, France | Olympia SOLD OUT |
| May 22nd | New York, NY | Webster Hall SOLD OUT |
| May 23rd | Washington, DC | 930 Club SOLD OUT |
| May 25th | Atlantic City, NJ | House of Blues |
| May 26th | Boston, MA | Paradise Rock Club SOLD OUT |
| May 28th | Toronto, ONT | Phoenix Concert Theatre SOLD OUT |
| June 1st | Santa Barbara, CA | KJEE Radio Show Santa Barbara Bowl |
| June 16th | Hultsfred, Sweden | Hultsfred Festival |
| June 17th | Aarhus, Denmark | Northside Festival |
| June 19th | Amsterdamn, Holland | Melkweg Max |
| June 22nd | Neuhausen ob Eck, Germany | Southside Festival |
| June 23rd | Scheessel, Germany | Hurricane Festival, Red Stage |
| June 24th | Paris, France | Solidays Festival |
| June 27th | Luxemburg | Rockhal |
| June 28th | Werchter, Belgium | Rock Werchter, Pyramid Marquee |
| June 29th | Arras, France | Main Square Festival |
| July 6th | Bucharest, Romania | B'Estfest |
| July 11th | Vigevano, Italy | 10 Giorni Suoanti Festival |
| July 14th | Bilbao, Spain | BBK Live Festival |
| July 15th | Aix-les-Bains, France | Musilac Festival |
| July 19th | Oporto, Portugal | Mares Vivas Festival |