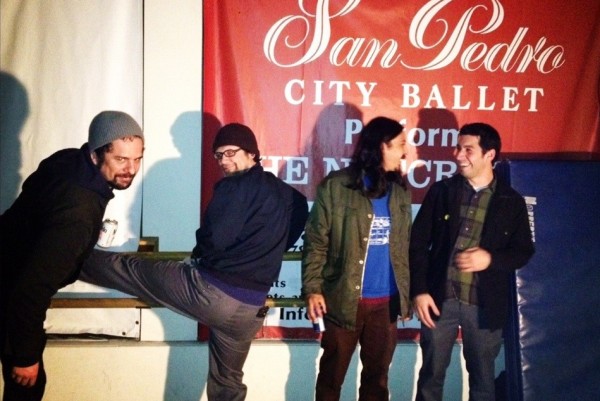 The second best known punk band from San Pedro, CA - Toys That Kill - will be releasing their first new album since 2006's Shanked! . The record is titled Fambly 42 and is due out May 15, 2012 via Recess.
In support of their new album, the band is announcing a series of Spring US tour dates alongside the likes of Hot Snakes, Screaming Females, Mike Watt, Audacity and more, and will also be appearing at this year's Punk Rock Bowling Festival in Las Vegas, 1-2-3-4 Go! Fest in Oakland, CA and the annual Chaos in Tejas event in Austin, Texas.
Check out a song from the album, "The Nervous Rocks," over here.
| April 6 | San Diego,CA | Casbash | Hot Snakes |
| --- | --- | --- | --- |
| April 20, 2012 | Long Beach.CA | Prospector | Pins of Light |
| April 26, 2012 | Eagle Rock,CA | Center for the Arts | Screaming Females Audacity |
| April 27, 2012 | San Pedro,CA | SP Ballet ( TTK RECORD RELEASE PARTY!!) | Screaming Females Mike Watt |
| April 28, 2012 | San Diego,CA Early show | Che Cafe AND late show at Bar Pink. | Screaming Females (both shows) |
| April 29, 2012 | Pomona | VLHS | Screaming Females |
| April 30, 2012 | Fullerton,CA | The Continental | Screaming Females |
| May 25, 2012 | Oakland,CA | the New Parish (1234go Records Fest) | the Avengers and the Fleshies |
| May 26, 2012 | Sacramento,CA | Luigi's Fun Garden | the Bananas, Ennui Trust, Rad |
| May 28, 2012 | Las Vegas,NV | Punk Rock Bowling | |
| May 29, 2012 | Albuquerque,NM | the Gasworks | |
| May 30, 2012 | Denton,TX | Rubber Gloves | Joyce Manor, Culo, Gas Chamber and Kowar |
| May 31, 2012 | Austin,TX Chaos in Tejas | the Parish | Pierced Arrows,Tenement,Gun Outfit,Teenage Cool Kids |
| June 1, 2012 | Austin,TX day off | Chaos in Tejas | |
| June 2, 2012 | Las Cruces,NM | the Trainyard | |
| June 3, 2012 | Phoenix,AZ | the Meat Market | |