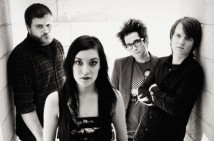 The Company We Keep have posted a cover of At the Drive-In's "Pattern Against User." The band is a new project from Justin Pierre of Motion City Soundtrack, Brian Southall of The Receiving End Of Sirens, Branden Morgan of Misery Signals and vocalist Amy Brennan.
The band explained the choice of covering the song from 2001's Relationship Of Command to Absolutepunk

Basically, I had a strange glitchy electronic song, that I sent over to Justin, just in case he ended up with some ideas for it. He found himself singing the ATDI melody over the song, and brought up the idea of just making it a cover. We never actually changed my original structure of the song, and we just fit the lyrics and melody over the top of it. The last thing you want to do while covering such an iconic band, is do something wrong.
Check out the cover here.