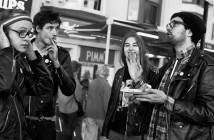 Malmo, Sweden's Terrible Feelings have released a music video for the track, "Intruders", off of their upcoming Deranged Records release, Shadows.
The band are also streaming, Shadows, over at Alt Press and are currently on tour in Europe including a handful of dates in the U.S.
Terrible Feelings - Intruders from Double Sun on Vimeo.
| DATE | VENUE | CITY |
| --- | --- | --- |
| April 14, 2012 | WWDIS | Strand, Stockholm |
| April 18, 2012 | Debase | Malmö |
| April 19, 2012 | JUZ | Verden, DE |
| April 20, 2012 | OCCII | Amsterdam, NL |
| April 21, 2012 | Panic Room, Essen | DE |
| April 22, 2012 | Les Passagers du Zinc | Besançon, FR |
| April 23, 2012 | L'Assommoir | Saint Étienne, FR |
| April 24, 2012 | JUZ, Mannheim | DE |
| April 25, 2012 | Dynamo, Zürich | CH |
| April 27, 2012 | Laden, Tübingen | DE |
| April 28, 2012 | Bei Roy, Berlin | DE |
| April 29, 2012 | Rote Flora, Hamburg | DE |
| May 25, 2012 | Øresundsfestival | Malmö |
| May 31 thru June 2, 2012 | Siestafestivalen | Hässleholm, SE (exact date TBA) |
| June 19, 2012 | Death By Audio | NYC |
| June 20, 2012 | Kungfu Necktie | Philly |
| June 21, 2012 | Gooskis | Pittsburg |
| June 24, 2012 | Buccaneer | Memphis |
| June 27, 2012 | Strange Matter | Richmond |
| June 28, 2012 | Golden West | Baltimore/DC |
| June 30, 2012 | Acheron | NYC |
| July 6, 2012 | Bar Loose | Helsinki, FI |
| July 7, 2012 | Hässäkkä Päivät Festival | Oulu, FI |