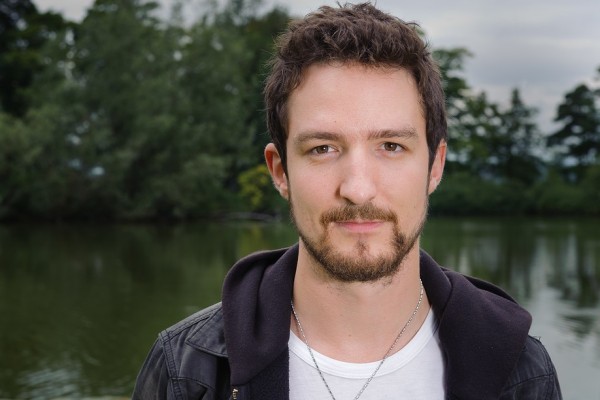 The evening of Friday the 13th of April, 2012, saw English folk-punk troubadour Frank Turner play to a 12,000 strong sell-out crowd at London's Wembley Arena.
With Essex-born folk-punk legend Billy Bragg on main support, Turner and his band, The Sleeping Souls, have garnered excellent reviews from across the British press in the subsequent days, with notable write-ups in The Independent, The Daily Telegraph, and The Guardian.
The Guardian's Caroline Sullivan summed up her review as follows:

Though the rise of the anti-capitalist movement has undoubtedly sent many new followers Turner's way – his current album, England Keep My Bones, nearly went Top 10 – his set finds a surprising amount of room for the personal as well as the political. For every rasped-out call to arms such as Love, Ire & Song ("Let's be heroes, let's be martyrs, let's be radical thinkers," it commands hopefully), there's a nostalgic Wessex Boy, whose Mumfordian jauntiness is heightened by female backing singers. Yet the show is laced with reminders that Turner – a sweary bundle of energy in waistcoat and jeans – is as committed as ever. A duet with Bragg on The Times They Are A-Changin' feels like the anointing of a new generation of protest-rockers. It will be interesting to see if Turner can make a difference.
Turner has also announced an eighteen date UK tour.
| Date | City/Town | Venue |
| --- | --- | --- |
| 11th Nov | Nottingham | Rock City |
| 12th Nov | Leeds | O2 Academy |
| 13th Nov | Liverpool | O2 Academy |
| 14th Nov | Swansea | Brangwyn Hall |
| 15th Nov | Reading | Hexagon |
| 17th Nov | Newcastle | O2 Academy |
| 18th Nov | Edinburgh | HMV Picturehouse |
| 19th Nov | Sheffield | O2 Academy |
| 20th Nov | Norwich | Open |
| 22nd Nov | Margate | Winter Gardens |
| 23rd Nov | Wolverhampton | Civic Hall |
| 24th Nov | Leamington Spa | Assembly |
| 25th Nov | Lincoln | Engine Shed |
| 26th Nov | Oxford | O2 Academy |
| 28th Nov | Brighton | Corn Exchange |
| 29th Nov | Southampton | Guildhall |
| 30th Nov | Truro | Truro Hall |
| 1st Dec | Bath | Pavilion |