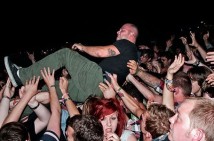 The Lock Up Stage at Reading Festival run by Mike Davies, host of the BBC Radio 1 Punk Show has announced the lineup for the 2012 edition of the punk-themed stage. The lineup includes Social Distortion, Less Than Jake, Anti-Flag, Me First and the Gimme Gimmes, Gallows, Turbonegro, Bouncing Souls, A Wilhelm Scream, Every Time I Die, Saves The Day, Trash Talk, Touche Amore, Good Riddance, The Skints, Ceremony, Polar Bear Club, Random Hand, This Is Hell, Star Fucking Hipsters, The Flatliners, Dead To Me, Apologies, I Have None, Pettybone, and Los Campesinos!.
Davies adds: "Old favourites, new heroes and even surprise guests… we have it all and it will be one hell of a festival."
Reading 2012 is set to take place at Little John's Farm from Friday, August 24th to Sunday, August 26th.