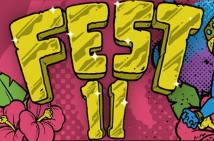 The Fest in Gainesville, FL have announced another batch of bands, with some high profile additions including 7 Seconds, F.Y.P, Titus Andronicus, The Menzingers, Toys That Kill, The Soviettes, Underground Railroad to Candyland, We Are The Union, The Front Bottoms and La Dispute.
Three-day weekend passes went on sale today at 1:00pm EST on the event website. Weekend passes will be $85 until July and will increase to $100 each afterwards. Passes allow attendees access to 11 venues each day, with bands playing round the clock from all over the world.
New Additions
The Front Bottoms
Waster
Stoned At Heart
Cop Problem
No Weather Talks
Billy Wallace
Code Orange Kids
Despite Everything
Young Turks
Criminal Culture
The 20 Belows
American War
Rob Lynch
Jus' Folks
Raindance
American Pinup
Bear Trade
Kill You Dead
The Liberation Service
No More
One Win Choice.