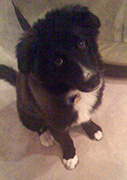 All-American Rejects have formed a partnership with national pet adoption agency Petfinder.com. Guitarist Nick Wheeler adopted his dog Dexter using the site and is encouraging people to join and adopt a dog themselves. The site is offering tickets and prizes to people who Like Them on Facebook. Dexter, Nick's adopted Boston Terrier mix is out on the road with the band as an unofficial fifth member
Speaking of Petfinder - if you'll pardon some editorializing for a second - the awesome dog next to this story was adopted via the service. He is a border collie mix and was a unexpected surprise for some farmers in Northern Quebec and was placed by a small rescue agency in that area. Getting a dog from a small town in Quebec to (then) Toronto was something that couldn't have happened without Petfinder. The whole process was remarkably smooth considering it was all volunteers and I think everyone would agree that it turned out great for Finn. It's really the most humane and responsible way to find a pet and has helped 17 million pets get adopted. It represents more than 13,000 animal welfare organizations in the U.S., Canada and Mexico and so I really urge you to consider it before breeders or other options.
Anyway, dogs are awesome.