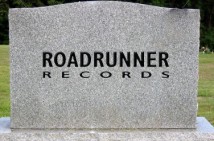 With the news that Roadrunner Records was shuttering offices around the world and laying off staff, one of the bands signed to the label commented on the decline of the heavy metal label and Warner Music Group imprint. Trivium vocalist Matt Heafy had some harsh words for piracy defenders but kind words for the former label employees saying:

I wish I knew who or what to blame specifically, and chew off it's heads - but Roadrunner records just fired some of their best employees. I don't know if it's corporate greed or it's due to the fact that no one puts value in physical art and that piracy created a domino effect. But our friends who are being tossed away so quickly by the label are now out of jobs. These people helped bands get where they are today.Wanna defend piracy? Do what you do for me and 10,000 others for free. Whatever your trade is - give me that for free or you're a jerk.
We're being told by inside sources that neither Warner nor Roadrunner plan to make an official statement anytime soon (and we're really sorry if you're finding out about losing your job this way.)
The news has been quoted by a variety of sources with closings of UK, Europe and Canadian offices likely and rumours about the US offices as well. Metalhammer asked a few bands about the news as did Classic Rock Magazine.
Some of the label's bands that we've covered on Punknews.org include Killswitch Engage, Red Tape, 3 Inches of Blood, New York Dolls, Wednesday 13, Madina Lake, Amanda Palmer, The Dresden Dolls, and Opeth.