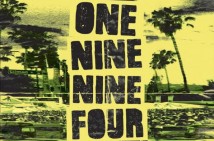 A week after his long awaited punk documentary One Nine Nine Four unceremoniously leaked to YouTube, director Jai Al-Attas has posted a blog posting talking about the evolution and creation of the film on his blog.

So we were made aware last week that our documentary has leaked onto the internet. This has provided Matt and I(Jai) with mixed feelings; on one side it's potentially a missed opportunity to have it released officially & never make back our investment but on the other it seems to be really striking a chord with people and that's what we always intended to do in the first place. I can honestly say that spending months on end hearing everyone's view that was involved in the 90's punk scene was one of the best experiences of my life and as a fan it doesn't get much better than that.
Check out the rest of his post - which is the first of a series - here.
The documentary explores the punk explosion into the mainstream that occurred in the early- to mid-'90s, and features interviews with Green Day's Billie Joe Armstrong, The Offspring's Dexter Holland, Greg Graffin and Brett Gurewitz from Bad Religion, Tim Armstrong, Matt Freeman, and Lars Fredriksen of Rancid, Fat Mike of NOFX, and many others. The project ran into issues involving funds for music clearance rights, which has stalled the commercial release of the film. It was narrated by Tony Hawk who's series of games sparked a significant amount of interest in the genre as well.