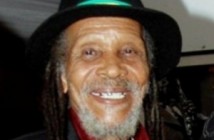 Lloyd Brevett, founding bass player for groundbreaking ska band The Skatalites, has passed away, after having been hospitalized for a series of strokes and seizures. He was 80 years old.
Lloyd co-founded the pioneering ska group in Jamaica in 1964, though the members of the group played together as early as 1955. The band recorded their debut LP, Ska Authentic, and Jamaica's famed Studio One, and toured as the creators of ska. The band split in 1965, but went on to reform in 1983. Brevett left the band in 2005. In October 2001, he was awarded one of Jamaica's highest honors, the Order of Distinction, and in 2010, he was awarded the Silver Musgrave Medal for his contributions to music.
Our condolences go out to Lloyd's family and friends.