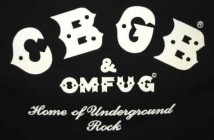 Legendary East Village club CBGB looks to be undergoing yet-another rebirth. According to a New York Times report, the current owners of the name are looking to launch a music festival in New York and also open a new version of the club at a downtown location. Both the name and the venue have frequently change hands over the years since the passing of founder Hilly Kristal in 2007. Currently, the original location is being used by rock/punk-focused fashion designer John Varvatos who launched a boutique there in 2007, leaving the inside largely intact. Tim Hayes, one of the investors, commented on the festival:

We're never going to recreate that moment in time. We're trying to continue the idea of supporting live music, making a lot of noise and being a part of New York City. The festival is one way we can do it. Eventually the club will be another way we can do it.
The four-day festival is scheduled to begin on July 5 and will showcase about 300 rock bands. Concerts will take place at around 30 places, from large stages like Central Park Summerstage and Webster Hall to small clubs like the Trash Bar in Williamsburg and the Living Room on the Lower East Side. Some of the confirmed performers include Rocket From The Tombs, The Baseball Project, Craig Finn of The Hold Steady, Cro-Mags, Sick Of It All, Guided by Voices, Cloud Nothings, The Pains of Being Pure at Heart, D Generation, David Johansen of New York Dolls, and more.