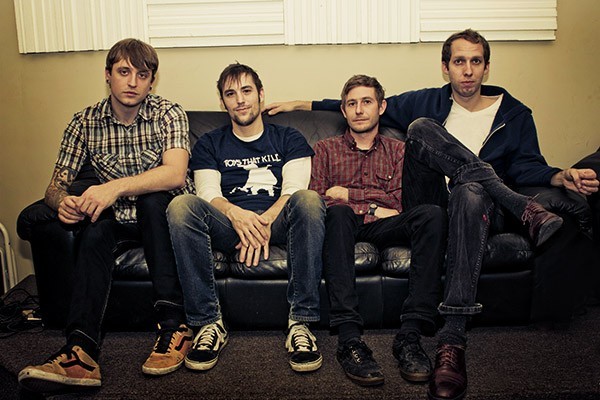 The studio responsible for recording the song, Sonic Iguana, has posted a stream of Dear Landlord's contribution to The Thing That Ate Larry Livermore compilation due out May 29th, 2012 on Adeline Records. The track is among a series of songs selected by Lookout! Records founder Larry Livermore including songs from Be My Doppelganger, Dear Landlord, House Boat, Mean Jeans, Mixtapes, Night Birds, The Copyrights, The Dopamines, The Hextalls, and The Max Levine Ensemble. Larry interviewed Dear Landlord for us a few weeks ago and you can find that interview here.
Check out the song here.
Dear Landlord will also be playing a few shows on the east coast before heading over to the west coast.
| DATE | CITY | VENUE |
| --- | --- | --- |
| JUNE/23 | BALTIMORE, MD | Otto Bar |
| JUNE/24 | PHILADELPHIA, PA | The Barbary |
| JUNE/25 | BROOKLYN, NY | Knitting Factory |
| JUL/27 | MINNEAPOLIS, MN | 7th St. Entry |
| JUL/28 | WATERLOO, IA | Spicolis |
| JUL/29 | OMAHA, NE | The Sandbox |
| JUL/30 | DENVER, CO | Marquis Theatre |
| JUL/31 | SALT LAKE CITY, UT | Burt's Tiki Lounge |
| AUG/1 | BOISE, ID | The Shredder |
| AUG/2 | SPOKANE, WA | The Hop |
| AUG/3 | VANCOUVER, BC | Media Club |
| AUG/4 | SEATTLE, WA | Highline |
| AUG/5 | PORTLAND, OR | Rotture |
| AUG/8 | SACRAMENTO, CA | Press Club |
| AUG/10 | SAN FRANCISCO, CA | Thee Parkside |
| AUG/11 | BERKELEY, CA | Gilman Street Project |
| AUG/12 | LOS ANGELES, CA | Blue Star |
| AUG/13 | POMONA, CA | VLHS Warehouse |
| AUG/14 | ESCONDIDO, CA | The Metaphor Cafe |
| AUG/15 | LAS VEGAS, NV | The Box Office |
| AUG/16 | SCOTTSDALE, AZ | Chasers |
| AUG/17 | LAS CRUCES, NM | Train Yard |
| AUG/18 | AUSTIN, TX | Red Seven |
| AUG/19 | SAN ANTONIO, TX | Ten Eleven |
| AUG/20 | HOUSTON, TX | Walter's |
| AUG/21 | DALLAS, TX | LaGrange |
| AUG/22 | OKLAHOMA CITY, OK | The Conservatory |
| AUG/23 | KANSAS CITY, MO | Record Bar |
| AUG/24 | ST LOUIS, MO | Firebird |
| AUG/25 | CHICAGO, IL | Subterranean |