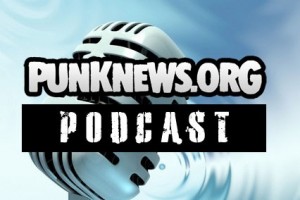 Slow week. Nothing to see here. Move along.
…
Oh fine. If you must, the Punknews Podcast tackles a week fo major music news, including Tom Gabel's revelations to Rolling Stone, Terror's vocalist railing against the Refused reunion, and the deaths of author Maurice Sendak, ska pioneer Lloyd Brevett of The Skatalites and Adam MCA Yauch of the Beastie Boys. Org staffers Chris Moran, Adam White and Armando Olivas are present to sort through the drama.
…all this and music from Fagettes, Signals Midwest, and Sean Blak.
You can click Read More to stream and/or download the show, or subscribe via RSS or iTunes. You can always send us your feedback in the comments section or via e-mail.
This episode of the Punknews Podcast is sponsored by Pouzza Fest, the punk rock festival taking over downtown Montreal from May 18th to the 20th.
Punknews Podcast for the week for May 8, 2012