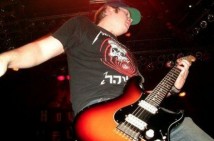 Lucky Boys Confusion guitarist, Joe Sell, passed away May 15th near the band's recording studio. Sell had been in the hospital months prior due to pancreatic problems. He was 33.
Lucky Boys Confusion released the following statement on their facebook:
We are saddened & devastated to hear the news of our bandmember, friend & brother Joe Sell's passing this morning. The five of us have toured, recorded & performed as one for the last fifteen years. More importantly, we've all grown up together. There simply are no words right now.

We send our truest condolences to the entire Sell family & ask on their behalf that everyone respects their privacy at this difficult time.

The band has no further statement at this time & we thank you for your kind thoughts.
Joe Sell was a self-taught guitarist who formed Lucky Boys Confusion with his friends in 1997 in Chicago, IL. The band rose to mainstream fame with hits such as "Hey Driver", "Bossman", and "Fred Astaire."
Our condolences go out to Joe's family and friends.