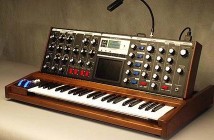 In honor of synthesizer pioneer Bob Moog's birthday yesterday, Motion City Soundtrack have posted their cover of The Rentals' "Waiting." The song was recorded during the band's sessions for 2007's Even If It Kills Me but never before released in North America.
Find it on their Tumblr.
Speaking of MCS, the band acknowledged their inadvertent leak of their upcoming album, Go, with zen-like acceptance saying just:

So "Go" leaked. I am not sure if this is bad or good thing. I really feel that the right thing to do is to wait till its released and enjoy the record the way we had planned for you. We worked really hard on this and are very proud of it. We hope you like it and help us continue to make music by supporting us by buying our music.
Go is due out June 12, 2012.