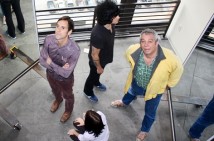 Anywhere, the project from Cedric Bixler Zavala (The Mars Volta, At The Drive-In), Christian Eric Beaulieu (Triclops, Liquid Indian) and Mike Watt (The Stooges, fIREHOSE, Minutemen) have announced a "wide" release of their previously limited self-titled debut. Only 500 copies of the album were made available for Record Store Day but ATP Recordings is planning a wide release on June 4, 2012.
The label described the release:

The music captured on this material is an ethereal, resonant execution of what could be described as eastern acoustic punk. Likened to the voyeurism of Sandy Bull, Sir Richard Bishop, or Jack Rose style raga's reinterpreted at times with Drive Like Jehu, Minutemen punk velocity, other moments emotionally spiraling toward a haunting, ethereal beauty akin to Vashti Bunyan lost in the desert of a desolate western.