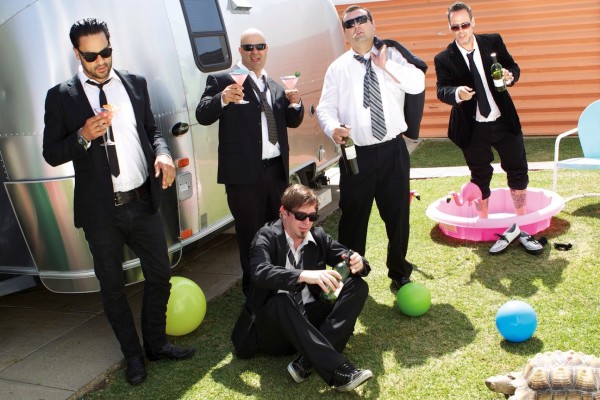 Strung Out has announced that this summer they will be performing two of their most beloved albums - 1996's Suburban Teenage Wasteland Blues and 1998's Twisted by Design - on a US and Canadian tour this summer.
Vocalist Jason Cruz said this about the plan:

It feels right to do one last retrospective before we head into the making of another album. I think people will really enjoy these older songs played back to back.
The tour will feature support from Handguns on all dates, and Such Gold and The Darlings on a separate legs. You may notice that the bulk of the shows thus far take place in Canada, but the band is promising a separate announcement of more dates in September/October which will likely include more US shows.
| Date | Venue | City | With |
| --- | --- | --- | --- |
| July 17, 2012 | Hawthorne Theatre | Portland, OR | Such Gold, Handguns |
| July 18, 2012 | El Corazon | Seattle, WA | Such Gold, Handguns |
| July 19, 2012 | The Biltmore | Vancouver, BC | Such Gold, Handguns |
| July 21, 2012 | Starlite Room | Edmonton, AB | Such Gold, Handguns |
| July 22, 2012 | The Republik | Calgary, AB | Such Gold, Handguns |
| July 23, 2012 | Louis' Pub | Saskatoon, SK | Such Gold, Handguns |
| July 25, 2012 | Pyramid Cabaret | Winnipeg, MB | Such Gold, Handguns |
| July 27, 2012 | Opera House | Toronto, ON | Such Gold, Handguns |
| July 28, 2012 | Le Cercle | Quebec City, QC | Such Gold, Handguns |
| July 29, 2012 | Le National | Montreal, QC | Such Gold, Handguns |
| July 31, 2012 | Ritual | Ottawa, ON | Such Gold, Handguns |
| August 01, 2012 | Call The Office | London, ON | Such Gold, Handguns |
| August 05, 2012 | Union Transfer | Philadelphia, PA | Handguns |
| August 07, 2012 | Altar Bar | Pittsburgh, PA | Handguns, The Darlings |
| August 12, 2012 | Triple Rock | Minneapolis, MN | Handguns, The Darlings |
| August 14, 2012 | The Waiting Room | Omaha, NE | Handguns, The Darlings |