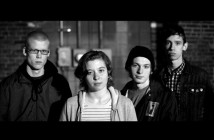 Code Orange Kids are currently in the studio, recording their debut full-length for Deathwish Inc. with Converge guitarist Kurt Ballou. The band is set to record ten songs for the record. Drummer Jami Morgan said of the recordings:

We are very, very excited to be here. Kurt has made tons of our favorite records and we respect him as an engineer and musician immensely, as many others do. Shit's going to be buck.
In addition, the band will be heading to Europe this July for a few weeks of shows, as well as playing Philadelphia's This is Hardcore Fest in August.
| Date | City | Venue |
| --- | --- | --- |
| July 7, 2012 | Karlsruhe, Germany | New Noise Fest |
| July 8, 2012 | Alphen aan den Rijn, Netherlands | Het Kastel |
| July 9, 2012 | Hamburg, Germany | Logo |
| July 10, 2012 | Schweinfurt, Germany | Alter Stattbahnhof |
| July 11, 2012 | Salzburg, Austria | Rockhouse Bar |
| July 12, 2012 | Munchen, Germany | Feierwerk |
| July 13, 2012 | Koln, Germany | Essigfabrik |
| July 15, 2012 | Giessen, Germany | MUK |
| July 16, 2012 | Zurich, Switzerland | Dynamo Werk 21 |
| July 17, 2012 | Milano, Italy | Lo Fi |
| July 18, 2012 | Comacchio, Italy | Voodoo CLub |
| July 19, 2012 | Wien, Austria | Arena |
| July 20, 2012 | Rockycany, Czech Republic | Fluff Fest |
| July 21, 2012 | As, Belgium | Vlamrock |
| August 11, 2012 | Philadelphia, PA | This Is Hardcore Fest |