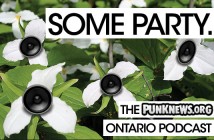 On this, the third episode of Some Party: the Punknews.org Ontario, host Adam White continues to explore independent music from the Org's home province of Ontario, Canada. Once again we present an eclectic mix of local punk rock, alt-country, folk and some more difficult to categorize offshoots. Also, this time out we're debuting a more succinct show format (roughly 30 minutes and done).
On this episode we feature music from Ontario acts playing the upcoming S.C.E.N.E. Music Festival in St. Catharines on Sunday, June 24th, including Permanent Bastards, The Snips, Pkew Pkew Pkew (Gunshots), Bronx Cheerleader and Grey Kingdom (ex-Attack In Black). You can find the detailed track listing below and check back next week for a second look at local acts playing this fest.
Click Read More to stream and/or download the show, or subscribe via RSS (MP3 / Enhanced AAC) or via the iTunes Store.
Some Party: The Punknews.org Ontario Podcast - Episode 3
Track Listing
We're always also looking for bands for future episodes and invite you to submit a few here.