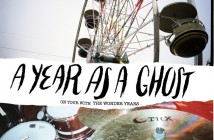 The Wonder Years have unveiled plans to release A Year as a Ghost, a 200-page, soft-cover, full-color, matte-finished look at life on the road and at home with The Wonder Years that includes a download card for the bands' 2011 release Suburbia I've Given You All and Now I'm Nothing plus 11 rare recordings including basement demos and B-sides.
The book is full of photos shot by photographer Mitchell Wojcik who moved to The Wonder Years hometown and sat alongside them in the van during each of their 2011 dates. The book will feature lyric scans, hand-written tour stories, scans of artifacts and upwards of 500 photos taken on formats ranging from 35 mm film to cell phone camera pictures.
A release date has not been announced but the label is taking pre-orders already.
Came Out Swinging
Woke Up Older
Local Man Ruins Everything
Suburbia
My Life as a Pigeon
Summers in PA
I Won't Say the Lord's Prayer
Coffee Eyes
I've Given You All
Don't Let Me Cave In
You Made Me Want to be a Saint
Hoodie Weather
And Now I'm Nothing
My Life as Rob Gordon
Me vs the Highway
Living Room Song*
Don't Let Me Cave In (Nervous Energies)*
Woke Up Older (Acoustic)*
Local Man Ruins Everything (Acoustic)*
Came Out Swinging (Demo)*
Don't Let Me Cave In (Demo)*
Coffee Eyes (Live Demo)*
Woke Up Older (Live Demo)*
It's Murder-Suicide (Nu-Metal Jam)*