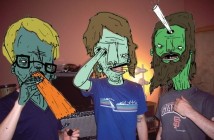 Sub Pop Records has added Toronto's METZ to their roster, and will release their debut full-length on October 9th, 2012. The label described the group as follows:
"As their name suggests, Toronto's METZ are short, sharp and to the point. They play minimal post-punk with enough of a grasp of melody and dynamics to appeal to the more casual listener. Confrontational without being contrived and contorted without being convoluted, METZ are working rapidly outward from a pretty rare niche and are one band whose buzz is certain to induce violent shaking."
Take that how you will. The group has some North American tour dates on the horizon, including shows with Archers Of Loaf and The Men. Those dates, as well as a brief teaser video, can be seen by clicking below.
| DATE | CITY | VENUE |
| --- | --- | --- |
| Jun 15 | Toronto, ON | Wrongbar + |
| Jun 16 | Toronto, ON | Phoenix |
| Jun 22 | Seattle, WA | Barboza +^ |
| Aug 03 | Sackville, NB | Sappyfest |
| Aug 24 | Chicago, IL | Bottom Lounge |
| Aug 25 | Minneapolis, MN | 400 Bar |
| Aug 28 | Pittsburgh, PA | Garfield Artworks |
| Aug 29 | Washington, D.C. | DC9 |
| Aug 30 | Philadelphia, PA | Kung Fu Necktie |
| Aug 31 | New York, NY | Pianos |
| Sep 01 | Brooklyn, NY | Death By Audio |
+ w/ The Men
w/ Archers of Loaf
^ w/ Kinski