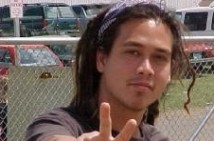 Despite positive signs over the past few months, the situation for Deftones bassist Chi Cheng has taken a turn for the worse. According to postings on the OneLoveForChi.com web site, which was created to help raise funds for Cheng and his medical expenses, Cheng has developed pneumonia. Sadly, aspiration pneumonia is a common problem for comatose patients due to the weakened cough reflex and the inability to sit up. Chi has been moved to the ICU and is taking antibiotics to stave off the infection.
The musician was seriously injured in November 2008 after a severe crash in Santa Clara, California. Cheng has been opening his eyes and responding to his surrounding for some time but still cannot respond verbally.
The Deftones recently entered the studio to begin work on the follow up to 2010's Diamond Eyes. Sergio Vega, formerly of Quicksand, continues to handle bass duties with the group both live and recorded.