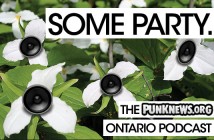 On this, the fourth episode of Some Party: the Punknews.org Ontario, host Adam White continues to explore independent music from the Org's home province of Ontario, Canada. Once again we're profiling bands playing the upcoming S.C.E.N.E. Music Festival in downtown St. Catharines this Sunday, June 24th.
In this quick 20 minute episode we play music from The Lucky Ones, Saint Alvia, Thousand Young, The Skullians and June and July. You can find the detailed track listing below. Last week's show featured songs from Permanent Bastards, The Snips, Pkew Pkew Pkew (Gunshots), Bronx Cheerleader and Grey Kingdom (ex-Attack In Black) while past shows have featured SCENE performers such as Elk, Julianna Riolino, The Penske File, Sparrows, Cousin and The Dirty Nil.
Click Read More to stream and/or download the show, or subscribe via RSS (MP3 / Enhanced AAC) or via the iTunes Store.
Some Party: The Punknews.org Ontario Podcast - Episode 4
Track Listing
We're always also looking for bands for future episodes and invite you to submit a few here.