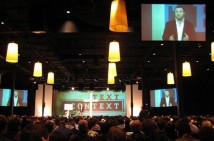 A Orange County Register reporter wrote a somewhat inflammatory article about the breakup of Thrice. Writer Ben Wener seems to lay the blame squarely at the feet of frontman Dustin Kensrue saying:

An arguably more dominant influence may have come from Kensrue's involvement with Mars Hill Church, the controversial evangelical organization, whose Santa Ana headquarters are directly in front of the Observatory. The singer-songwriter serves as worship director at the megachurch's local chapter. […] I also don't want to get too far afield of what this farewell means [like] to what degree [church] founder Mark Driscoll a misogynist?

Before Thrice had even begun this final run of farewell shows […] Kensrue revealed that he's already busy working on material with a new band […] aimed at the contemporary Christian music. That doesn't sound like the doings of a creatively spent guy. More like someone who wants a change of scenery -- and who perhaps has faced some pressure from his pastor to shun a certain lifestyle.
Kensrue took quite a bit of umbrage with the article, saying that he "is bummed that it affects people I love, in my band, at my church, & Christians in general."