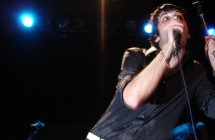 Head Automatica frontman Daryl Palumbo used some interesting hashtags when responding to a question on twitter regarding the group's third album. When asked when fans could expect a new album, Palumbo had this to say:

"Ask a Warner brother. #MastersInPurgatory #WB RT: @Erwinnifred: @DarylPalumboCC New Head Automatica comes out when?Not so patiently waiting!"
Head Automatica hasn't released an album since Popaganda in 2006. In the interim, Palumbo has been busy touring and recording with Glassjaw, as well as side projects like United Nations. He'll be touring the UK with Head A in August; those dates can be seen by clicking below.
Ask a Warner brother. #MastersInPurgatory #WB RT: @Erwinnifred: @DarylPalumboCC New Head Automatica comes out when?Not so patiently waiting!

— Daryl Palumbo (@DarylPalumboCC) May 31, 2012
| VENUE | CITY | DATE |
| --- | --- | --- |
| The Cellar | Southampton | 05/08/2012 |
| The Relentless Garage | London | 06/08/2012 |
| Sound Control | Manchester | 07/08/2012 |
| The Garage | Glasgow | 08/08/2012 |
| Rescue Rooms | Nottingham | 10/08/2012 |