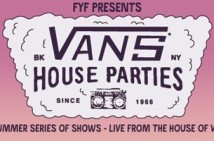 The lineups have been announced for this summer's Vans-sponsored and FYF Fest-curated Vans House Parties. Like last year, the events take place at the House of Vans venue in Brooklyn and are generally free of charge but first-come-first-serve via RSVP. Bands set to perform over the five dates include: 7 Seconds, Baroness, Cursive, Doomriders, H2O, Joyce Manor, King Khan & The Shrines, Night Birds, Titus Andronicus, Turbonegro, Chairlift, Lemonade, Love As Laughter, Nicky Da B, The Everymen, Tournament, and Washed Out.
Check out more details and RSVP here.
The 25,000 square foot renovated warehouse in the Greenpoint neighborhood of Brooklyn will kick off each show at 7pm, but lines have been long in previous years so early arrival is encouraged. If you live somewhere less awesome than New York, you can also watch live webcasts of the shows at that same link.
| Date | City | Venue | With |
| --- | --- | --- | --- |
| July 12, 2012 | Brooklyn, NY | House of Vans | H2O, 7 Seconds, Tournament |
| July 26, 2012 | Brooklyn, NY | House of Vans | King Khan and the Shrines, Nicky Da B, The Everymen |
| August 2, 2012 | Brooklyn, NY | House of Vans | Washed Out, Chairlift, Lemonade |
| August 16, 2012 | Brooklyn, NY | House of Vans | Cursive, Titus Andronicus, Love As Laughter, Joyce Manor |
| August 29, 2012 | Brooklyn, NY | House of Vans | Turbonegro, Baroness, Doomriders, Night Birds |