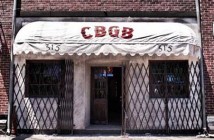 Vanishing New York has collected some shots of the recreation of the legendary CBGB club being built on a Savannah, Georgia soundstage for the upcoming film about the venue and the influential music scene that developed around it.
The film is being directed by Randall Miller (Bottle Shock) and stars Alan Rickman as late club founder Hilly Kristal, Malin Akerman as Debbie Harry of Blondie, Johnny Galecki (The Big Bang Theory) as Television manager Terry Ork, Ashley Greene as Kristal's daughter Lisa, Joel David Moore as Joey Ramone, Justin Bartha as Stiv Bators of The Dead Boys, Taylor Hawkins of Foo Fighters as Iggy Pop, Evan Alex Cole as Richard Hell, and many others.
The (real?) original CBGB site is now home to a John Varvatos flagship store. Varvatos has typically enlisted punk and rock musicians as his models and maintains a punk-influenced style albeit at premium designer prices.